Scout Staves or Staffs
In bundles of ten, for Pioneering, hiking, vaulting over obstacles, erecting shelters and camps, creating rafts,bridges, stretchers etc etc.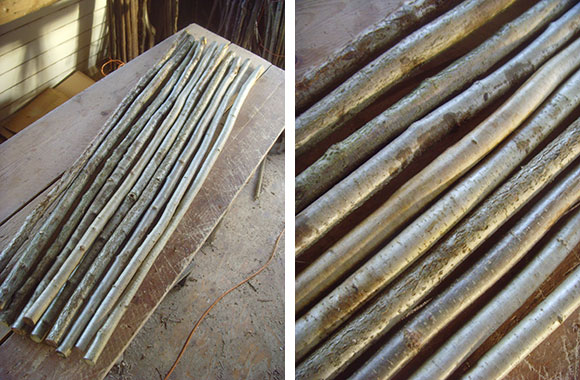 Hazel staves as cut "unimproved/straightish".




A selection of hazel staves/staffs after steaming and straightening (the tannin in the bark turns them dark) including a peeled one and a twisted one.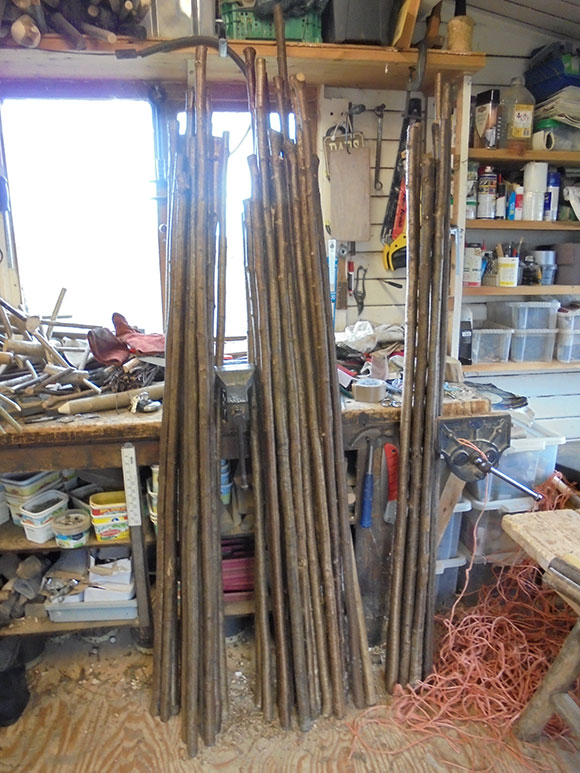 A corner of the workshop with various length staves/staffs after straightening.
All specially selected for this purpose and felled this winter as part of the sustainable management of an ancient wood in north west Essex. Not only do I have access to top quality hazel, but I have the equipment to steam straighten if required - and the skill!
Ash was sometimes used in the past but hazel is just as good and possibly a bit stiffer, seasoned or green. We have been directed to not cut ash, due to the die-back disease.
These staves/staffs are supplied 'green', in winter and spring, as cut, heavy duty, hazel, straight-ish and sound, usual length 1.8m (6ft) lengths 30-35mm thick. You can expect them to be straighter than those in the photos.
OR seasoned and steam straightened/improved, available year round, for roughly twice the money though, still a lot cheaper than the staves in the 'Scout Shop'. I also stock dogwood and blackthorn, that are extra tough, and some with fantastic natural barley sugar twists, contact me for details of current stock.
'Seconds' available very cheaply, 25% off. Shorter ones too.
Supplying them green means they can easily be peeled, (with a 'stirrup' potato peeler), which is a nice project on it's own, also the wood is less attractive to woodworm without the bark!
Bevelling the ends is necessary to prevent splintering and this can be achieved safely with a pen knife, under direct supervision. Further customisation, initials etc is great fun, as is adding various badges and medallions, notches and artwork.
After peeling, the wood can season and harden if the staves are kept upright with plenty of air around them (not chucked on the ground around the back of the hut!). Seal the ends with candle wax after bevelling.
They can be used straight away, as they are, though they are heavier now until they season.
I also have available thinner staves, just as popular, 25-30mm, prices below.
I can deliver any quantity in a few days, £25.00 per bundle inc insurance. Combined carriers rates apply to multiple orders, ie. add £7.50 per extra bundle of 10, eg 2 bundles = £32.50 carriage
Yes, you can collect them from me at the workshop address if you like, and I will give you 5% discount, on top of the carriage money you save.
I advise early purchase of 'green' staves as they are only available for a limited period, as we don't cut hazel after the end of March' in order to maintain the growing cycle in the wood. Seasoned, steam straightened stock available year round.
Prices for bundles of ten. NOTE: the longer sizes are not always immediately available.
Seasoned at least a year and steam straightened
Diameter
Length
1.50m
1.65m
1.80m
1.95m
25-30mm
£80
£90
£100
£110
30-35mm
£90
£100
£110
£120
35-40mm
£100
£110
£120
£130
40-45mm
£110
£120
£130
£140
OR supplied green, winter and spring only, straightish, as they grew HALF the above prices.
I also supply morris dancing staves/sticks, and larger sturdier ones or quarter staffs for re-enactment societies for pike men, stick fighting or pugilism, also hazel bow staves in the round or quartered from a larger piece, please get in touch for a chat about your requirements.
Any questions please don't hesitate to call me, Andy 07971 642243 I also supply other sizes of sticks and poles, mainly hazel.