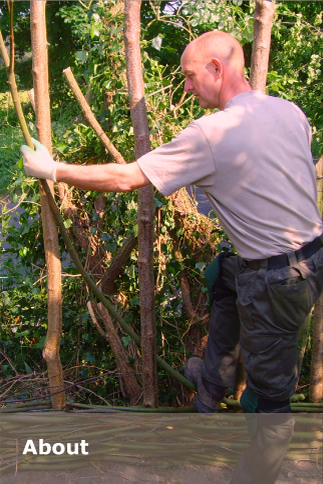 Andrew Basham, coppice craftsman, Essex
"I won't be noted for my piercing wit, elegant dress sense or sporting flair but 'by golly he could straighten a stick' - that will be my epitaph."
"Woodworm, sadly, if present don't wake up from their first and last sauna treatment in the steamer."

ABOUT COPPICE DESIGNS
Steeped in woodlore, skilled underwoodsman Andrew Basham has over 30 years experience in traditional greenwood crafts.
Introduction
Hello, my name is Andy Basham and I first got interested in coppice crafts and woodmanship through conservation work, mainly coppicing ancient woodlands. I was running a cane furniture workshop and material supply business at the time. Soon I realised I wanted to 'convert' to using local materials and traditional tools / practices. English woodland, particularly the uses for the underwood or coppice, became my passion.
After selling my cane furniture business in London and moving to Norfolk, I took up hurdle making in willow osier, also rustic furniture, even making plantable live willow chairs and benches. I displayed and demonstrated my wares at craft fairs and built up a whole range of items to sell, including rakes, besoms and walking sticks.
Seems to me very right that the best quality, or perhaps the most individual or unusual sticks occurring in nature, should be ear marked for walking sticks, after all they will be always close to hand even if not used every day. Its a strong link twixt ourselves and mother nature.
What
Andrew offers a range of greenwood products & services from the hazel woodland he helps manage. Utilising coppice wood and his palette of traditional skills he can weave a bespoke in-situ hazel hurdle; runs hazel chair making courses; and has a vast array of handmade hazel products - from pea sticks to faggots, from thatching spars to rake tines.
See greenwood products from Coppice Designs for full list of creations >>
Ethics
I don't travel far for my raw materials, most is only a short bike ride away. This cuts down on 'wood miles' reducing our carbon footprint and supports the local economy. For these reasons I don't encourage people to travel long distances for my products or material. Carriage can be arranged for finished products and raw materials. Be warned this can be expensive as most of what I deal in is bulky and/or heavy.
Where
An old hand at woodland management Andrew is now based in Ashdon, near Saffron Walden, North Essex. He demonstrated and displays his craft at country fairs mainly in East Anglia. See our events programme. Andy doesn't have a showroom but you are welcome to view his products at his workshop strictly by appointment. Contact Coppice Designs / Andy Basham >>
< Jacob Lambert models a "living willow chair". Want to make your own chair? See our courses page.
Apprenticeship
Andy has recently taken on an apprentice Jacob Lambert, and with some funding from the Bill Hogarth Memorial Trust (administerd by The Smallwoods) and and also from the Princes Trust, he will be working alongside Andy for at least 2 years.
Jacob will also be assisting with scheduled courses.
Work experience
Offered to the right candidates, contact Andy for further information.