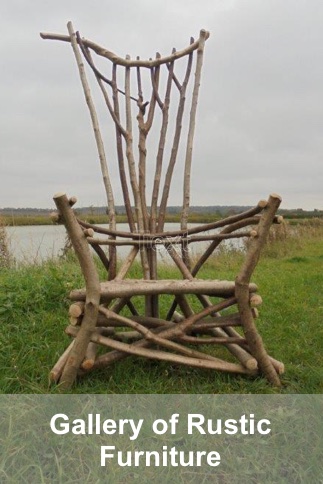 I hope you like my new gallery feature. If you live miles away I can organise a next day carrier, from £75-£150 including insurance per item, depending on your location, email me with your postcode for a quote.
"Bespoke?" not quite! Every piece I make turns out different and the result cannot always be easily predicted. However I can taylor a piece to your approximate needs, for instance width, height, etc. Please get in touch to discuss your requirements.
A print out with full after care options/instructions supplied.
Want to make your very own armchair/throne/bench/arbour?
See our Greenwood Courses.

GALLERY
Rustic chairs and benches for sale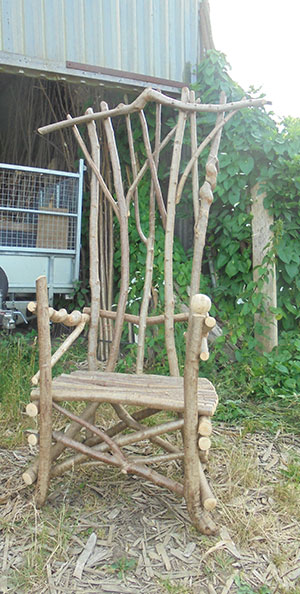 'Guineviere', lovely tall armchair with nice twists, quite compact, destined for a barn conversion, who says they have to stay outside?! £250.00 SOLD

'Yeoman', large armchair emerging proudly from it's birthplace. £225.00 SOLD

Mad hatter's teaparty themed throne, with an 'orb'! £395.00 SOLD

'Robin and Marion' £395.00 and oak topped table £195.00 SOLD

'Gandalf' wizard's story telling throne £395.00 SOLD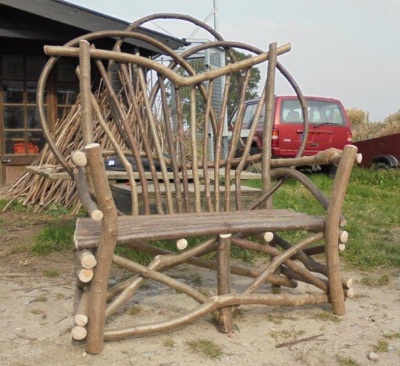 Two-seater loveseat, 'Fleur de Lys' price £495.00, this one is 'collection or local delivery only' as it is too wide for the carrier