Dates for 2020:
1 day courses
April 9th, 10th, 11th, 15th, 16th, 28th, 29th, 30th
May 14th, 15th, 16th
June 2nd, 3rd, 4th, 16th, 17th, 18th
October is the end of the courses season. Subscribe to our newsletter to receive updates.

Tutor: Andrew Basham
Price: 1 day - £137.50
Location: Coppice Designs Rustic Workshop at Bridge Meadows. See the Courses page for full address and local map. Look out for our Coppice Designs arrows on the roadside. Please take care when exiting this busy road.
Duration
9am for a 9.30 start after a cuppa, day finishes at 5pm or earlier if you have other commitments.
Food and drink
Tea and coffee are available at breaks, both morning and afternoon with biscuits provided to keep up energy levels. Please bring a packed lunch with you unless otherwise stated.
Clothing
Please wear workwear and sensible shoes.
Group Bookings: Places available for up to four people. Single group bookings of two to four people can be made on other dates to suit you (and us), not weekends though and preferably a Tuesday, Wednesday or Thursday.
One to One or One to Two: If you are not confident of your strength or abilities or perhaps you would prefer a higher level of tuition, I can offer 'one-to-one' days for £300 per day.
Here are some of the comments we have received from course participants:
"Thank you so much for a really enjoyable day, luckily the weather has stayed dry and we have enjoyed sitting in our chairs!" Mick and Chris Lyons
"Just wanted to say thank you for a really great day yesterday. Norm and I both really enjoyed it!" Suzie Shannon
"Just a quick line to say "thank you" for a fabulous day today!
We have just returned home, with our chairs, of which we are very proud! What a great reminder of a brilliant day. We both learned new skills and had lots of fun in the process" Gwen and Stuart Thurtle, April 2013
"I wanted to say a great big thank you for making Daryn's day so enjoyable. He loves his chair and so does everyone else... it was the best present I have given Daryn for his birthday for a long time" - Frances, Feb 2013
"Thanks for an excellent course. My husband was 'impressed' with my effort - that might be a first" - Margaret
"Thank you for the time you spent with my father and I, instructing and assisting us to construct rustic chairs - we both thoroughly enjoyed the occasion" - Henrik P.
"I am writing to say how much I enjoyed the chair making course last week. You explained everything very clearly and simply, and we had everything we needed to hand in a lovely setting with a great atmosphere. I am really pleased with the chair that I made and would highly recomend the course - I am sure I will be back to make something else!" - Sarah, June 2013
"We're both looking forward to coming back and learning more" - Emma Lucas
"Thank you for your expertise, for your unending patience and for a thoroughly enjoyable day" - Maryann Matthews
"Many thanks for the photos, they are very good and a lovely reminder of a great day at your workshop" - Gill Hewitt
"The day I spent with you making a rustic chair was one of the best birthday treats I have ever had. The chair now has pride of place in our porch and has received may admiring and complimentary comments, mainly to the effect that they are amazed I made it in one day!" - Martin Sulley
"Andy,I would just like to thank you for Saturday, my sister Lyn was so pleased with her chair and enjoyed your course so much Our family wanted a special day for her and you provided it." - John Ditton
"Thanks for a great day - we both thoroughly enjoyed it." - Michelle and Owen Toon
"Thanks for such a great day. We all had an awesome time." - Rachel Garside
"Many thanks for a splendid day at your workshop yesterday. Howard and I really enjoyed creating our anniversary masterpiece" (bench) Phillipa and Howard Slatter, Cambridge
"Really enjoyed my day with you" Joe McWilliams
Many thanks for a great day and a super chair. I really enjoyed it. Your teaching was perfect......cheers, Bob Wells

COURSES FROM COPPICE DESIGNS
Make your own Rustic Armchairs or Thrones
"We pick out different curves, kinks and forks to bring together so you can create a unique rustic chair for your house or garden."


You can expect to make in a day a large comfortable armchair (not so large it won't fit in your car!). See pictures to the right for a typical example.
Storytelling thrones can be constructed also in a day by one person, but there is a supplement of £25.00 to cover the pre-steamed and bent arms and gothic back.
Every year we 'coppice' or harvest a huge amount of hazel from the reserve we manage and we always put to one side all the interesting shapes that occur in nature especially for our rustic furniture making. Having a large stock of this 'quirky' hazel, not just straight characterless poles, is one of the key elements to the aesthetic appeal/success of this style.
Of all the hundreds of people who have made a chair with us - no one has failed to take their own chair home. If you can peel an apple, you can make a chair. However if for some reason you would prefer a 'one-to-one' day and receive a higher level of tuition, by all means contact me to arrange a date. A one to one is also appropriate for anyone wishing to steam bend their own components and have more time for 'embellishments'! We provide a print out detailing full after care instructions.
Another key to the success of this course has been the use of modern compact cordless tools, which we provide, that are very easy and efficient to use, with modern exterior screws. Absolute beginners are very often surprised at how easy it is with our guidance, and gain tremendous satisfaction in seeing their own unique chair/ throne/ bench develop and becoming more rigid as pieces are tailored and fitted.
Helpers can come along and help, age range from 8-80 years, no charge - just let me know in advance.
Please refer to the right side column for dates, note that if there are two of you coming together we can probably accommodate you on alternative dates, preferably Tuesday/ Wednesday / Thursday or some Saturdays may be available - but not many, due to attending shows etc.
For groups of up to three or four people we can make special arrangements. (Normal courses run with just two people.) And we offer good discounts for a block booking - please contact me.
Bench courses, increasingly popular click here
---

Click here for details.
---
---
Some snaps from typical chair courses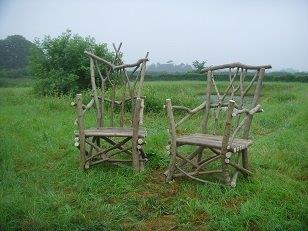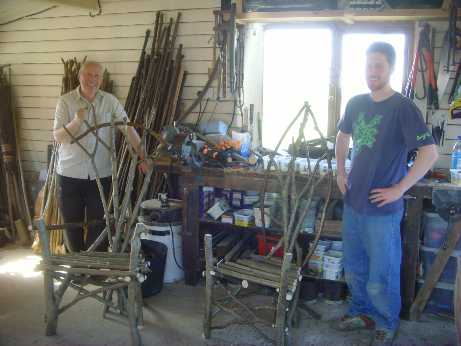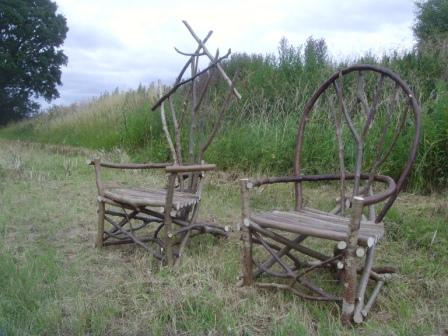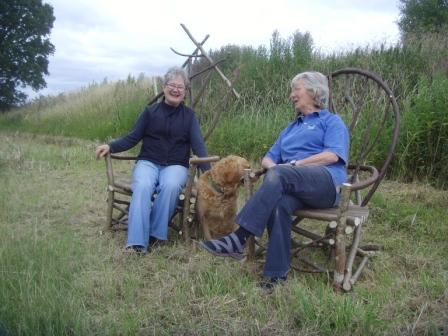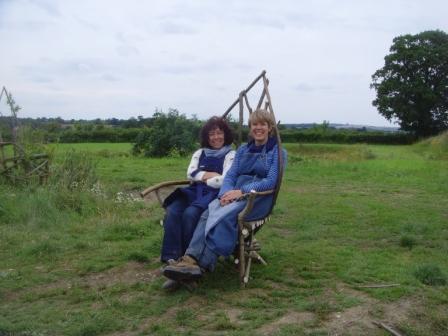 "Thanks for a lovely day - the school is blown away by the chairs" - Liz Bicknell
"My chair has pride of place in the garden and everyone seems to want to use it. Thank you again for one of the great days of my life." David Teather.
"Hi Andy, we had a great day yesterday and are chuffed to bits with our chairs, thank you." Tania and Simon.