COURSES FROM COPPICE DESIGNS
Tool maintenance
Principally aimed at private individuals, conservation volunteers, park rangers, etc who wish to use the traditional woodland tools of axe, billhook and saw who are frustrated by blunt, poorly maintained edge tools.
We uncover the mystery of old tools, why do they work better than new ones?
We examine the different regional patterns and their different adaptions and uses.
Rehandling tools - bring with you your wooden spade / fork / sledgehammer / axe with a new handle for expert guidance.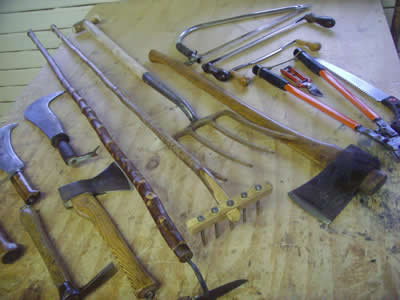 We do keep a stock of old tools that need repair which you can buy very reasonably from us. Also you have the chance to buy at trade price the most useful, value for money, sharpening aid that I recommend.
If there is time we will examine other tools and their use with assorted devices.
You will be provided with a list of links to tool dealers and suppliers.
Duration: 1 day
Dates 2012: TBC
Tutor: Andrew Basham

Price: £50
Location: Workshop, Goldstones Farm, Ashdon